How to Choose Your Dentist
By Steven Kail on February 24, 2014
---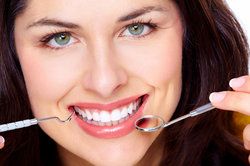 Good dental health is reliant upon multiple factors. Responsible at-home hygiene is of course important, as is regular professional care. But how can you be sure that you're receiving the highest quality of care possible? Even during a routine cleaning or exam, you should be confident that your dental office is effectively helping you prevent dental problems; and when problems do arise, they should be handled efficiently and expertly.
If you are looking for a dentist in Jackson or the surrounding areas, we want to help you make the best decision for your teeth and overall health. Consider the following qualities of a good dentist, while keeping in mind just how important it is to have a healthy, attractive smile.
Qualifications and Experience
One of the first things you should consider in a dentist is his or her qualifications. These can partially be measured by years of experience, but quality is often a better indication than quantity. Did he or she graduate from a reputable dental program? What continuing-education courses were taken? Is the dentist staying up-to-date with current practices and techniques? Dentists should be proud to exhibit their academic and professional achievements, so don't overlook them.
At the Premier Dental Center, each of our dentists is highly qualified within the field, having completed advanced courses and professional training to offer the best services available. They are also members of numerous professional organizations, such as the American Dental Association and Tennessee Dental Association, with Drs. Steven Kail and Joseph Leonard also having been listed in the "Top Dentists in America" guide. Cumulatively, our dentists are also trained in orthodontics, laser dentistry, sedation dentistry, pediatric dentistry, endodontics, and pharmacology.
Restorative Services Offered
Perhaps the most important service a dentist can offer is restorative treatment for teeth and gums. If you are suffering from tooth decay, gum disease, infected roots, or other dental problems, your dentist should be able to offer treatment that is both appropriate and effective. At our dental practice, we offer a wide range of treatments to address nearly any problem that may threaten your health:
Tooth-colored fillings
Inlays and onlays
Dental crowns
Root canal treatment
Dental bridges
Treatment for TMJ disorders
When you have the very beginning of a cavity or are missing multiple teeth, we can restore both the appearance and strength of your teeth.
Cosmetic Services Offered
Many dentists may refer to themselves as "cosmetic dentists" in order to add an air of prestige to their practice. However, if you are interested in undergoing cosmetic dentistry, such as services to whiten or straighten your smile, make sure that your dentist has extensive training and experience in the techniques offered. Our dental center prides itself on the cosmetic expertise of our staff, as well as the array of services available:
Teeth whitening
Invisalign® orthodontics
Dental bonding
Porcelain veneers
Smile makeovers
Technology Available
While technology itself doesn't necessarily make a dentist better, it can certainly make treatment more efficient or effective. Moreover, a dental office's technology is often a good indication of its commitment to patient satisfaction and keeping up with innovations within the field. To this end, our practice regularly utilizes multiple technologies that can benefit you:
Digital X-rays: Our X-rays emit 90 percent less radiation than traditional X-rays, allowing us to keep your smile healthy with negligible risk to your well-being.
DIAGNOdent® laser: In addition to X-rays, we make use of a hand-held laser to detect cavities near the surface of teeth. The DIAGNOdent® laser is both painless and harmless.
CAESY patient education: This informative video series allows patients to see exactly what they can expect from a recommended or upcoming procedure.
Intraoral cameras: By using a small camera to transmit images onto an overhead screen, both the patient and dentist can gain a clear image of one's dental health.
Soft tissue laser: By using a laser to remove infected tissue such as from gum disease, patients can benefit from more accurate and comfortable results.
Set Up a Consultation
Visit one of our three locations to learn first-hand why our dental center is your best bet for general, restorative, and cosmetic care. Contact us today to schedule a consultation with any of our dentists.
Related to This
Outstanding staff, sincerely courteous with wonderful personalities. They make you feel relaxed and welcome. THANK YOU

Flora C.