Maintain a Healthy Smile with Regular Dental Exams
By Steven Kail on August 21, 2014
---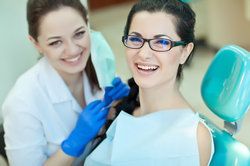 A healthy smile begins with proper dental care. Both brushing and flossing are vital to maintaining oral health but so is seeing your dentist for regular dental exams. Regular dental exams are important for removing plaque and tartar that brushing and flossing can miss; they can also catch dental problems at their earliest stages. If any damage is detected,restorative dentistry treatments can be used to prevent further damage and restore oral health. Our team of Jackson dentists offers this overview to help you understand the importance of regular dental exams.
How Often Should I Undergo a Dental Exam?
According to the standards of the American Dental Association, patients should see their dentists for a regular exam every six months. Some dentists feel it necessary to be more proactive and may recommend regular dental exams every three months. Whether you see you dentist every three or six months, it is important to practice proper oral hygiene to maintain dental health in between visits.
Routine Dental Exam Procedure
Regular dental exams generally include checking for gum disease, decay, or other signs of disease, and also include a full dental cleaning. In most cases, the dentist is assisted by a dental hygienist, who often does the dental cleaning. During the dental exam, the mouth may also be checked for signs of oral cancer or vitamin deficiencies. If any issues are found, your dentist will determine a treatment plan.
Professional dental cleanings are a major component of a routine dental exam. Professional cleanings help remove plaque and tartar, culprits for causing gum disease, from hard to reach places. Small metal scraping tools, water picks, traditional floss, and polishing tools may be used to remove debris.
The Importance of Regular Dental Exams
Regular dental exams are a key component of a healthy smile. Though brushing and flossing are necessary for keeping the teeth and gums healthy, they can leave behind plaque, tartar, and bacteria below the gum line and in other hard to reach spots. Regular dental exams keep the teeth well cleaned, the gums free of disease, and help prevent major dental health problems. There are many reasons regular dental exams are important. Here are just a few:
Preventing or Stopping Dental Damage: Regular dental exams help keep the teeth and gums healthy, preventing dental damage from occurring. Exams also help catch problems so treatments can be performed to stop damage from advancing.
Maintaining Oral Health: Regular dental exams help maintain oral health by keeping the teeth and gums clean, and removing debris brushing and flossing alone can miss.
Catching Problems at the Earliest Stages: Regular dental exams allow your dentist to catch dental problems at the earliest stages.
Saving You Money on Costly Treatments: Dental exams help prevent decay and other dental damage, and can save you money. Regular exams can allow any issues to be treated early, by identifying dental problems before they become major and require more extensive (and expensive) treatment.
Aesthetics: Regular dental exams can keep your teeth looking their best for years to come.
Schedule an Appointment
To schedule your next dental exam, we invite you to contact Premier Dental Center today!
Related to This
Outstanding staff, sincerely courteous with wonderful personalities. They make you feel relaxed and welcome. THANK YOU

Flora C.