TMJ Disorders: Common Signs and Symptoms
By Steven Kail on December 06, 2017
---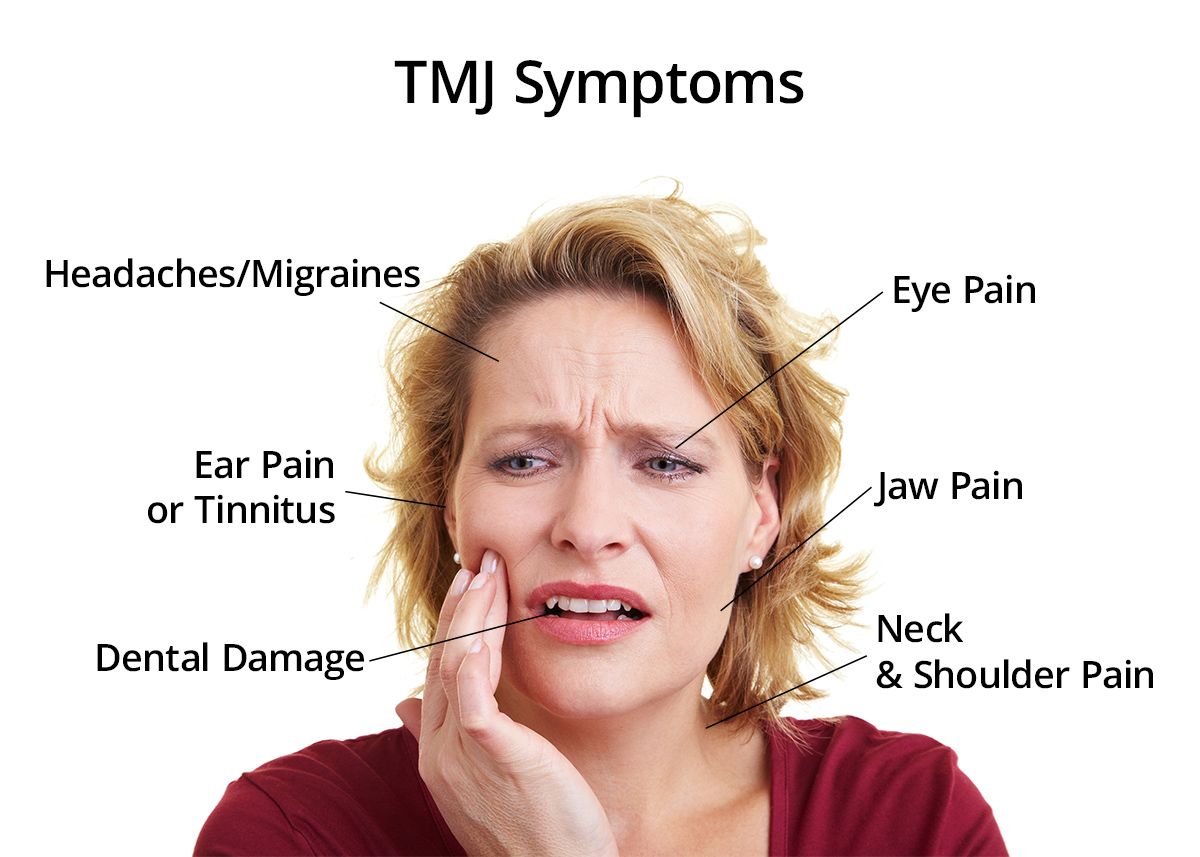 A TMJ disorder, or TMD, affects the temporomandibular joint. The temporomandibular joint is the joint located between the skull and the mandible. This jaw joint is one of the most complicated joints in the entire body, which makes sense given different motions required to speak, bite, chew, and make facial expressions. Problems with the bone, cartilage, muscles, or nerves may cause TMJ disorders to occur.
A TMJ disorder means that the jaw joint does not function as well as it should. Patients may notice a number of symptoms if they develop a TMJ disorder. The team at our Jackson restorative dentistry center would like to cover some of the basics when it comes to identifying and treating this rather common dental health issue.
Common Causes of TMJ Disorders
The most common causes of TMJ disorders include the following:
Teeth grinding (bruxism)
Poor dental alignment
Trauma or injuries to the jaw
Arthritis of the jaw joint
Clicking of the Jaw
The most common sign of a TMJ disorder is the clicking and crunching of the jaw joint. This sensation is often common when yawning, speaking, or opening the mouth in a certain way. Normally one's jaw, when functioning properly, does not make these kinds of sounds.
Lockjaw
Sometimes when a person suffers from a TMJ disorder, their jaw will suddenly lock into a certain position. This causes the jaw to appear open or shut. It can be embarrassing and inconvenient when this occurs, and it's certainly a sign that something is wrong with the jaw.
Chewing Problems and Poor Jaw Function
If the jaw is locking, clicking, or crunching, it generally isn't functioning properly. That's why TMJ disorders also tend to cause problems with eating, chewing, and general daily function of the jaw. Like the other symptoms, this can be annoying, and it can also lead to a good amount of discomfort.
Jaw Pain
On that note, TMJ disorders can lead to pain in the jaw. This might accompany the clicking or grinding of the jaw, and it may become pronounced when yawning, biting, chewing, or causing pressure on the joint. The severity of the pain can vary from patient to patient.
Ear Aches and Facial Pain
Pain from a TMJ disorder can radiate from the jaw to other parts of the head and face. It's not uncommon for people with TMJ disorders to experience ear aches, for instance. Pain in the temples and the facial muscles may also occur given the strain on the jaw.
Treatments for TMJ Disorders
Treatments for TMJ disorders can vary, but they generally involve identifying the root cause of the problems and addressing it directly. If poor dental alignment and teeth grinding caused the problem, orthodontic care tends to figure heavily in the treatment process. Minimally invasive procedures may be recommended for TMJ caused by arthritis and injuries. Surgery may be required for severe TMJ disorders that do not respond to other therapies.
During a consultation at our practice, we will be more than happy to go over these matters with you in greater detail.
Learn More About Your Dental Care Options
For more information about TMJ disorders and what we can do to diagnose and treat your jaw joint problem, be sure to contact our experienced team of dentists. We at Premier Dental Center will help you smile with renewed confidence and improved dental health.
Related to This
Outstanding staff, sincerely courteous with wonderful personalities. They make you feel relaxed and welcome. THANK YOU

Flora C.