10 Benefits of Porcelain Crowns
By Steven Kail on August 26, 2013
---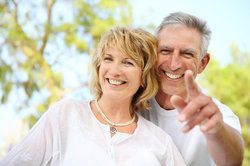 All of us want to make a great first impression, but sometimes our smile lets us down. Chips, cracks, decay, and erosion can leave us feeling less than confident in our personal and professional lives. Although being self-conscious about an unsightly smile is common, you don't have to spend another day letting these dental imperfections hold you back. With over three decades of experience in dental restoration and cosmetic dentistry, Premier Dental Center can help enhance the appearance and health of your teeth with natural-looking porcelain crowns.
Understanding The Procedure
A crown is a custom-made "cap" that covers the entire tooth to restore shape and size. Dental crowns are made of porcelain; crowns are thicker than veneers and provide extra strength and durability to teeth that have severe decay or damage. The special dental porcelain is sculpted to closely resemble your tooth in its original form and function - or better.
Getting a porcelain crown usually requires two office visits. During your first appointment, we will take X-rays to check for decay and then prepare your tooth for the crown, either by removing damaged areas or by building up missing tooth structure to support the crown. We will send an impression of your tooth to a dental laboratory where your crown will be made. In the meantime, you'll be fitted with a temporary crown.
Typically in two or three weeks, you'll come back in for your second appointment. We will check the fit and color of your permanent crown and then cement the crown onto your tooth.
10 Benefits of Porcelain Crowns
Porcelain crowns are a durable, aesthetically pleasing dental restoration solution. Because porcelain crowns are strong and nearly undetectable, we often recommend this treatment to patients who want to restore and improve their smiles.
Porcelain crowns are often the best solution for damaged or decayed teeth because they are:
Natural looking: Crowns can be made of stainless steel, gold, resin or ceramic, but porcelain is semi-translucent and looks and feels the most like real teeth.
Color matched: One of the biggest advantages of porcelain is its ability to be customized into any shape, texture, or color.
Durable: Dental porcelain is incredibly strong and known to last up to 15 years.
Protective: A porcelain crown helps protect a damaged tooth from further damage or decay, preserving the healthy part of the tooth within. It may also help reduce sensitivity.
Low maintenance: Unlike with other materials, no special maintenance is needed. Good brushing and flossing habits will keep your dental crown looking new.
Stain resistant: Porcelain is resistant to stains, so you can keep enjoying your favorite foods and drinks.
Safe: Complications from porcelain crowns are minimal. Risks include tooth discomfort or sensitivity immediately after the procedure, a chipped or loose crown, or an allergic reaction to the dental materials (extremely rare).
Comfortable: Because porcelain can be molded to any size and shape, most patients don't even feel like they're wearing a crown.
Functional: Your custom-made crown will cover the damaged tooth and will fit perfectly with your other teeth, allowing you to chew your food better and speak more clearly.
Beautiful: In addition to improving tooth function, a porcelain crown hides unpleasant defects, giving you a flawless restoration.
Learn More about Porcelain Crowns
Our patients in Bells, Jackson, and Brownsville prefer porcelain crowns for the durability, versatility and subtlety of the results. At Premier Dental Center, we pride ourselves on our commitment to excellent results with restorative dentistry. If you're interested in porcelain crowns and the expertise our Bells, Jackson, and Brownsville staff have to offer, please contact one of our West Tennessee locations to schedule a consultation.
Related to This
Outstanding staff, sincerely courteous with wonderful personalities. They make you feel relaxed and welcome. THANK YOU

Flora C.