Types of Tooth Discoloration and Treatment
By Steven Kail on February 24, 2014
---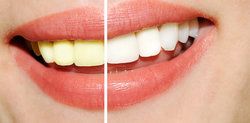 A bright, white smile can make a world of difference in one's expression and confidence. Tooth discoloration can therefore be a frustrating impediment to achieving the brilliant smile you deserve. Worse yet, some stains are absorbed deep below the surface, making them seemingly impossible to remove. Fortunately, there are numerous treatment options available to expunge or conceal discoloration, helping patients restore the natural color of their teeth. For our Jackson patients whose smiles are plagued by staining, we offer the following cosmetic techniques.
Types of Tooth Discoloration
Before deciding on a procedure, it's important to understand the type of discoloration present on your teeth. Some stains are more easily removable than others, and as such, may require alternative forms of treatment.
Extrinsic stains: Also called surface stains, these are the most common source of discoloration. Extrinsic stains tend to result in the general darkening or yellowing of teeth, especially along the edges and near the gums. These are typically caused by food, drink, and tobacco use.
Intrinsic stains: Also called deep stains, these tend to be smaller yet more noticeable. As opposed to widespread discoloration, intrinsic stains are localized and a distinctly separate color from surrounding tooth tissue. These are most often caused by medication, overexposure to fluoride, trauma, disease, or enamel erosion.
Whereas surface stains exist within or above the enamel, deep stains are embedded within the inner dentin tissue. Consequently, surface stains are more easily removable. Each type of stain is therefore best addressed through different options, as noted below.
Treating Surface Stains
Because surface stains can be removed, they are primarily treated through a simple teeth whitening procedure. Teeth whitening is both safe and long-lasting, allowing patients to restore the color of their smile without any dental restorations. At our practice, we offer Zoom!® whitening gel as a way to disperse stains from enamel and brighten your smile by up to eight shades. This treatment can be administered through a single in-office procedure or in the comfort of your own home.
For in-office treatment, patients can expect a single one-hour procedure. After applying the gel to teeth, a special light is directed at the teeth to activate the gel, expediting the treatment process. By coming in for treatment, patients also benefit from the care of a cosmetic dentist who can limit gum tissue exposure, reducing the risk of temporary irritation.
For at-home treatment, patients are given customized trays to wear every night over the course of two weeks. Since treatment is more gradual, patients are exposed to a smaller concentration of hydrogen peroxide at any given time, making it an excellent option for those with sensitive teeth.
Treating Deep Stains
Although some deep stains may be reduced through teeth whitening, most can be expected to remain. In fact, whiter teeth may only increase the prevalence of darker stains by contrast. Therefore, patients looking to restore balance to a smile should consider concealing such stains via restorations. The two most common methods of masking discoloration are dental bonding and porcelain veneers:
Dental bonding: A bonding procedure includes the use of composite resin, which is applied over the surface of a tooth. The tooth is first coated with a layer of tooth-colored resin before the resin is hardened with an ultraviolet light, with additional layers added as needed. The resin thus conceals any discoloration beneath it, while blending in with adjacent enamel.
Porcelain veneers: Veneers are used as a replacement for the surface of a tooth, enhancing it in both color and form. In preparation for veneers, a thin portion of enamel is first removed, and impressions of the tooth are taken. From these impressions, a veneer is crafted and cemented over the tooth. Because porcelain can accurately mimic the color and texture of a tooth, it is an excellent way to alter its overall outward appearance.
The decision between dental bonding vs. porcelain veneers is often based on the extent of discoloration. Patients may prefer to mask smaller flaws through bonding, as the procedure is quicker, easier, and less expensive. However, porcelain is a superior dental material in its aesthetic quality and longevity. Veneers are also able to cover multiple or larger imperfections with better results. Ultimately, your choice of treatment should be the result of an in-depth discussion with your dentist.
How Can We Brighten Your Smile?
No matter the nature of discoloration, we can help you choose an appropriate treatment option to enhance your smile for years to come. Contact our office to schedule a consultation with Dr. Kail, and get started on your brighter smile today.
Related to This
Outstanding staff, sincerely courteous with wonderful personalities. They make you feel relaxed and welcome. THANK YOU

Flora C.