Top Teeth Straightening Treatments at Premier Dental Center
By Steven Kail on March 26, 2014
---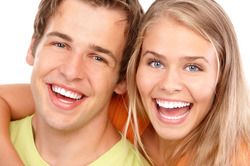 If you are searching for experienced cosmetic dentistry professionals who can safely and effectively provide you with the straighter, more uniform smile you desire, we invite you to visit Premier Dental Center, where you will find three of the most skilled dentists in the nation. At our three office locations serving Greater Jackson, teeth straightening treatment of the highest standard of quality is available. While many people believe that they can only straighten their teeth by wearing cumbersome metal braces, we proudly offer numerous alternatives that are equally effective yet more aesthetically appealing for today's fashion-conscious adult.
The following are just some of the options available at our practice for patients who wish to straighten their teeth discreetly and efficiently.
Invisalign®
For patients with crooked, misaligned teeth, Invisalign® aligners produce similarly excellent results to traditional metal braces without the need for conspicuous, uncomfortable metal brackets and wires. The Invisalign® system uses a series of removable, custom-crafted aligners that are virtually invisible when worn. Every two weeks or so, one set of aligners is switched out for the next in the series, with each set slightly differently shaped in order to gradually but definitively guide the teeth toward their optimal positions in the mouth. Aside from being more cosmetically appealing than metal braces, Invisalign® aligners are better for patients' oral health. Because the aligners can be removed, brushing and flossing can be done with ease, while patients are not restricted in the types of foods they can eat during treatment. As long as the aligners are worn between 20 and 22 hours each day, brilliant results can be achieved in roughly the same amount of time required by orthodontic therapy with traditional metal braces.
Instant Orthodontics with Porcelain Veneers
For patients with minor crookedness, spacing issues, and inconsistencies in the length and width of their teeth, porcelain veneers can be customized to create the appearance of perfectly straight and uniform teeth. Unlike orthodontic therapy, porcelain veneers produce immediate results, which is why we refer to the use of veneers to straighten teeth as "instant orthodontics." In addition to straightening teeth, porcelain veneers effectively conceal other cosmetic errors such as discoloration, chips, and cracks, making them an ideal orthodontic treatment for anyone who wants to rejuvenate their smiles more dramatically than even Invisalign® would allow.
Full Smile Makeover
A customized, comprehensive smile makeover plan would allow you to straighten your teeth while attending to other cosmetic and oral health issues. Each smile makeover is unique, combining and customizing treatments to the specific needs and goals of the individual patient. Your plan may include Invisalign® to straighten particularly crooked teeth; porcelain veneers for minor orthodontic issues, as well as to restore full luster and beauty to the visible front teeth; porcelain dental crowns to improve the shape and overall appearance of side and back teeth; and teeth whitening to rejuvenate natural teeth and complement your new, straighter smile.
Learn More about Teeth Straightening Options
To learn more about your teeth straightening treatment options, or to schedule your initial consultation at one of our three office locations, please contact Premier Dental Center today.
Related to This
Outstanding staff, sincerely courteous with wonderful personalities. They make you feel relaxed and welcome. THANK YOU

Flora C.