Zoom!® Teeth Whitening Can Give You a Dazzling Smile
By Steven Kail on April 28, 2014
---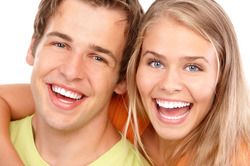 Do you find yourself covering up your mouth when you laugh or smile? Are you embarrassed by yellow teeth, even though you brush and floss regularly? Dental discoloration is no laughing matter. It can be extremely embarrassing, and it can affect patients who practice good dental hygiene. Although improper maintenance is certainly one cause of tooth discoloration, food, drink, medications, environment, and genetics all play a role in the color of your smile. Fortunately, our Jackson practice offers effectiveZoom!® teeth whitening, which provides some of the most dramatic results in cosmetic dentistry. Both in-office and at-home options can lighten your teeth by up to eight shades. Now that's something to smile about!
How Zoom!® Works
Both in-office and at-home treatments use a hydrogen peroxide-based gel, which chemically breaks down stains on the surface of your teeth. This gel is safe for your teeth, and your dentist will take precautions to limit contact between the gel and your sensitive gum tissue. During in-office treatment, your dentist will apply whitening gel to your teeth and activate the gel by shining a specially designed light on your teeth. This light does not emit heat; it is simply designed to accelerate the whitening process. The treatment takes about one hour, after which you will enjoy a dramatically whiter smile.
If you select at-home teeth whitening, you will receive custom-made whitening trays, which you will fill with a slightly milder form of whitening gel. You will wear the trays overnight for two weeks, and following treatment you will typically enjoy comparable results to in-office treatment.
Choosing between In-Office and At-Home Treatments
Since both options provide similar results, it can be a challenge to decide whether at-home or in-office treatment is right for you. Ultimately, of course, your dentist will help you make your choice, but there are some things to keep in mind as you consider your options:
If you have a big upcoming event like a wedding or graduation, you may prefer the instant results of in-office treatment.
You should be honest with yourself and your commitment to whitening treatment. If you honestly feel that you may forget to wear your trays overnight, in-office treatment may be a better choice.
If you have very sensitive teeth or gums, in-office treatment may be the right option, since your dentist can more carefully monitor your gums' exposure to whitening gel.
At-home treatment typically costs less than in-office treatment. It can be a great alternative if you are on a budget.
Maintaining Your Whiter Teeth
Teeth whitening offers outstanding results, but they are not permanent. Dental discoloration is a natural process. However, with proper maintenance, you can slow the progression and enhance the results of your whitening for a long time to come. To retain your whiter smile:
Brush your teeth at least twice a day and floss at least once.
Make regular trips to your dentist for cleaning and checkups.
Avoid stain-causing food and drink like wine, coffee, tea, berries, tomato sauce, and soy sauce.
Perform touch-up treatments using whitening trays. At Premier Dental Center, we provide free tubes of whitening gel after your biannual visits to help you maintain your dazzling smile. Be sure to use touch-up treatments as directed by your dentist.
Schedule Your Consultation
To learn more about Zoom!® whitening, contact Premier Dental Center today. Our friendly dentists will take all the time you need to explain whitening treatment and help you choose the best option for your needs.
Related to This
Outstanding staff, sincerely courteous with wonderful personalities. They make you feel relaxed and welcome. THANK YOU

Flora C.