Why Smoking Is Bad for Your Dental Health as Well as General Wellness
By Steven Kail on October 02, 2014
---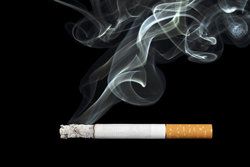 The offices of Premier Dental Center in Jackson, Brownsville, and Bells have helped countless patients with their dental care needs. This is because we offer comprehensive dental care services, from cosmetic dentistry treatments to enhance the beauty of your smile to state-of-the-art restorative dentistry to address tooth decay and gum disease.
Smoking cigarettes and using tobacco products can have a major impact on your dental health. We want to use this post to look at the various oral health issues that are related to the use of tobacco products.
Health Problems Related to Smoking Cigarettes
Smoking leads to a number of dental conditions, including the following:
Discoloration of teeth
Inflammation of salivary gland openings in the mouth
Higher-than-usual build up of plaque and tartar on the teeth
Loss of bone within the jaw
Increased risk of developing leukoplakia (white patches inside the mouth) and gum disease
Longer healing process following oral procedures, including tooth extraction, periodontal treatment or oral surgery
Increased risk of oral cancer
Smoking and Gum Disease
The use of tobacco products can lead to an increased likelihood of developing gum disease, which is the bacterial infection of the gum tissue. Specifically, smoking interferes with the normal function of the cells in a person's gum tissue, affecting the attachment of the soft tissue to your teeth and the bone structure. This not only makes smokers more prone to potential infections, but it can also impair the blood flow to the gums.
What about pipes and cigars? Do they affect oral health?
Just like cigarettes, smoking pipes and cigars leads to oral health problems. In fact, a 23-year long study published by the Journal of the American Dental Association found that cigar and pipe smokers experienced tooth loss at approximately the same rate as cigarette smokers. Even if the smoke remains mostly in the mouth rather than being drawn into the lungs, pipe and cigar smokers still run a major risk for developing throat cancer and additional oral health issues, such as bad breath, tooth, discoloration, and increased risk of developing gum disease.
Are there risks with smokeless products like chewing tobacco?
Yes, absolutely. Chewing tobacco contains at least 28 chemicals that have been shown to increase the likelihood of oral cancer in addition to cancer of the throat and of the esophagus. Chewing tobacco actually contains higher concentrations of nicotine than cigarettes. This means that chewing tobacco is even more difficult to quit than cigarettes once someone is addicted. On top of that, just one can of snuff is estimated to contain more nicotine than more than 60 cigarettes.
Smokeless Tobacco Still Means Gum Disease and Tooth Damage
Just like cigarettes, the use of smokeless tobacco products can lead to major problems with your gum tissue, causing it to recede or separate from your teeth. When you suffer from gum recession, the roots of your teeth become exposed, making a larger portion of the tooth more vulnerable to decay. Having the roots of your teeth so exposed can also increase the chances of experiencing pain when you eat or drink hot and/or cold foods and beverages.
On top of the dozens of chemicals found in chewing tobacco and other smokeless tobacco products, these items often contain extra sugars to enhance the flavor, which makes users even more prone to tooth decay. Smokeless tobacco products also contain sand and grit in many cases, which lead to gradual wear on your teeth. In the aforementioned study published in the Journal of the American Dental Association, it was found that chewing tobacco users were four times more likely to develop tooth decay.
Just More Reasons to Quit or Not Start Using Tobacco Products In the First Place
Based on the above, you have so many compelling reasons to avoid using any kinds of tobacco products. If you have trouble quitting on your own, consult your physician about ways that you can kick the habit for good. Be sure to also ask us about the various treatments available to address tooth decay, gum disease, and other dental health issues related to tobacco product use.
Schedule a Consultation for Dental Treatment
For more information about your treatment options for various oral health issues, be sure to contact our cosmetic and restorative dentistry offices today. The entire team here at Premier Dental Center look forward to your visit and helping you achieve optimal dental health and wellness.
Related to This
Outstanding staff, sincerely courteous with wonderful personalities. They make you feel relaxed and welcome. THANK YOU

Flora C.