Treatment Options for Missing Teeth
By Steven Kail on November 20, 2014
---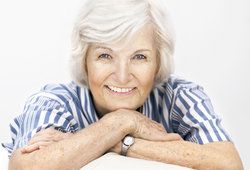 If you are missing one or more of your natural teeth, there has never been a better time to seek dental treatment. Thanks to such advanced solutions as dental implants, it is now possible to regain all of the freedom and control you had with your natural teeth with natural-looking replacement teeth. Gone are the days when replacing missing teeth meant having to put up with ill-fitting dentures and conspicuous metal restorations. Modern dentistry means never having to compromise the beauty of your smile to achieve optimal oral health.
At Premier Dental Center in Jackson, missing teeth can be replaced using the latest, state-of-the-art methods and techniques. There is no reason to continue living with missing teeth. Regain control over your life by finding out how our esteemed dentists can help you make your smile complete once again.
Methods of Replacing Missing Teeth
The treatment option best suited for you depends on how many teeth you are missing. The following restorations have traditionally been used to replace missing teeth:
Fixed bridges: A fixed bridge comprises between one and three artificial teeth attached to dental crowns on either end. These crowns are attached to the natural teeth adjacent to the gap where teeth are missing, allowing the artificial teeth to literally "bridge" the gap. Once in place, a fixed bridge cannot be removed by hand.
Removable dentures: Removable dentures can be created for either the upper arch, the lower arch, or both. Modern dentures look and fit better than dentures of the past; however, they are still vulnerable to slipping and shifting out of place.
At Premier Dental Center, we strongly urge our patients who are missing teeth to consider dental implants. Dental implants are tiny posts made of titanium that are surgically embedded into the jawbone, where they act as artificial tooth roots. Because the human body does not recognize titanium as a foreign substance, the implants integrate with the jawbone over time, essentially becoming part of the natural anatomy. The body cannot tell the difference between the titanium root and a natural tooth root.
Once the dental implant has taken root, it can be used to support a dental restoration. A single implant can be used to support a dental crown if a patient is missing only one tooth. Multiple implants can be used to support multiple crowns, dental bridges, or even full sets of dentures. Implant-supported restorations will not slip or shift out of place, making eating, speaking, and smiling a snap. Simply stated, if you are missing any or all of your natural teeth, implant-supported restorations are the closest you can come to having a mouth full of healthy teeth once again. They will restore your mouth to full form, function, and health as no other dental restoration can.
Whatever type of restoration you choose, please know that you should not leave a missing tooth untreated. It is vital to your oral and overall health that you have your missing teeth replaced as soon as possible.
Learn More about Treatment Options for Missing Teeth
To learn more about treatment options for missing teeth, please contact Premier Dental Center today.
Related to This
Outstanding staff, sincerely courteous with wonderful personalities. They make you feel relaxed and welcome. THANK YOU

Flora C.