Learn about Treatment for Chipped Teeth
By Steven Kail on October 22, 2015
---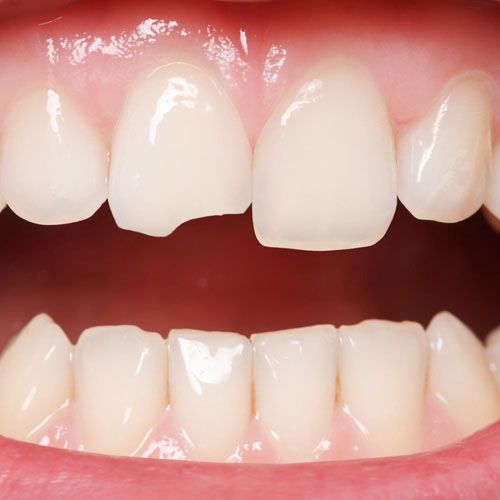 Biting down on a hard substance or sustaining a blow to the mouth can result in a chipped tooth, which may cause pain and will look unattractive. Repairing a chipped tooth can be accomplished in only one or two dental visits. The results will last many years, so you can enjoy renewed confidence, as well as comfortable oral function. We use cosmetic and restorative dentistry to restore chipped teeth. To undergo treatment for chipped teeth, contact our Jackson, TN practice today.
Cosmetic Bonding
Bonding is an additive dental procedure, meaning that we add structure to a tooth where tissue is missing. The same composite resin used for tooth-colored dental fillings can be bonded to a tooth to restore its shape. Cosmetic bonding is completed in one visit. The doctor will prepare your tooth, tint a bit of liquid composite resin to blend with the tooth's enamel, then apply the resin to the tooth and shape it. A gentle curing light will permanently harden the resin. After shaping and polishing, your restored tooth will look as good as new.
Porcelain Veneers
While bonding is a great option for some chips, it does not work for all chips. A front tooth with a chip to the bottom is a good example of this. If we place bonding on the bottom of a front tooth, when you bite on an apple, that bonding can pop off. The best treatment in this and similar situations is to place a porcelain veneer. Unlike bonding, which replaces a portion of a tooth, veneers cover the entire front surface. Made from porcelain that mimics natural tooth enamel, a veneer is a solid shell. We permanently secure the veneer to the front of a chipped tooth to repair the appearance of the chip, while also adding strength to the affected tooth.
Dental Crowns
Crowns reinforce a tooth that has endured a chip or fracture (crack). A dental crown may be made with tooth-colored ceramic, porcelain fused to metal (PFM), zirconia, or precious metal. To repair chipped teeth that show when you smile, we prefer to use a tooth-colored material instead of metal. A crown covers the entire white portion of a tooth that extends from the gum line - the part you see. We often use crowns to repair chipped teeth in the middle and back of the mouth, though crowns can be applied to front teeth.
Is a Chipped Tooth an Emergency?
In most cases, a chipped tooth does not constitute a dental emergency. However, if your tooth hurts, has broken off at the root, or you are bleeding, please contact our office as soon as possible. We will ask you a series of questions to determine whether or not you need emergency dental care.
Preventing Chipped Teeth
Some accidents cannot be avoided, but if you play sports, wearing a custom-fitted mouth guard will reduce your risk for sustaining injuries to the mouth, including chipped teeth. Mouth guards can be purchased over the counter at supermarkets and sporting goods stores. They come in unfitted or boil-and-bite varieties. For a more comfortable fit, consider a custom mouth guard made in our office. We fabricate mouth guards made specifically for a patient's bite, so they are more comfortable than the guards you can purchase at a store.
Learn More about Treatment for Chipped Teeth
Do you have a chipped tooth? Is it painful or unattractive? Contact us today to learn about options for treating chipped teeth. At Premier Dental Center, a dentist will sit down with you to discuss your concerns, expectations, and treatment options.
Related to This
Outstanding staff, sincerely courteous with wonderful personalities. They make you feel relaxed and welcome. THANK YOU

Flora C.