Treatment for the Various Stages of Tooth Decay
By Steven Kail on June 06, 2017
---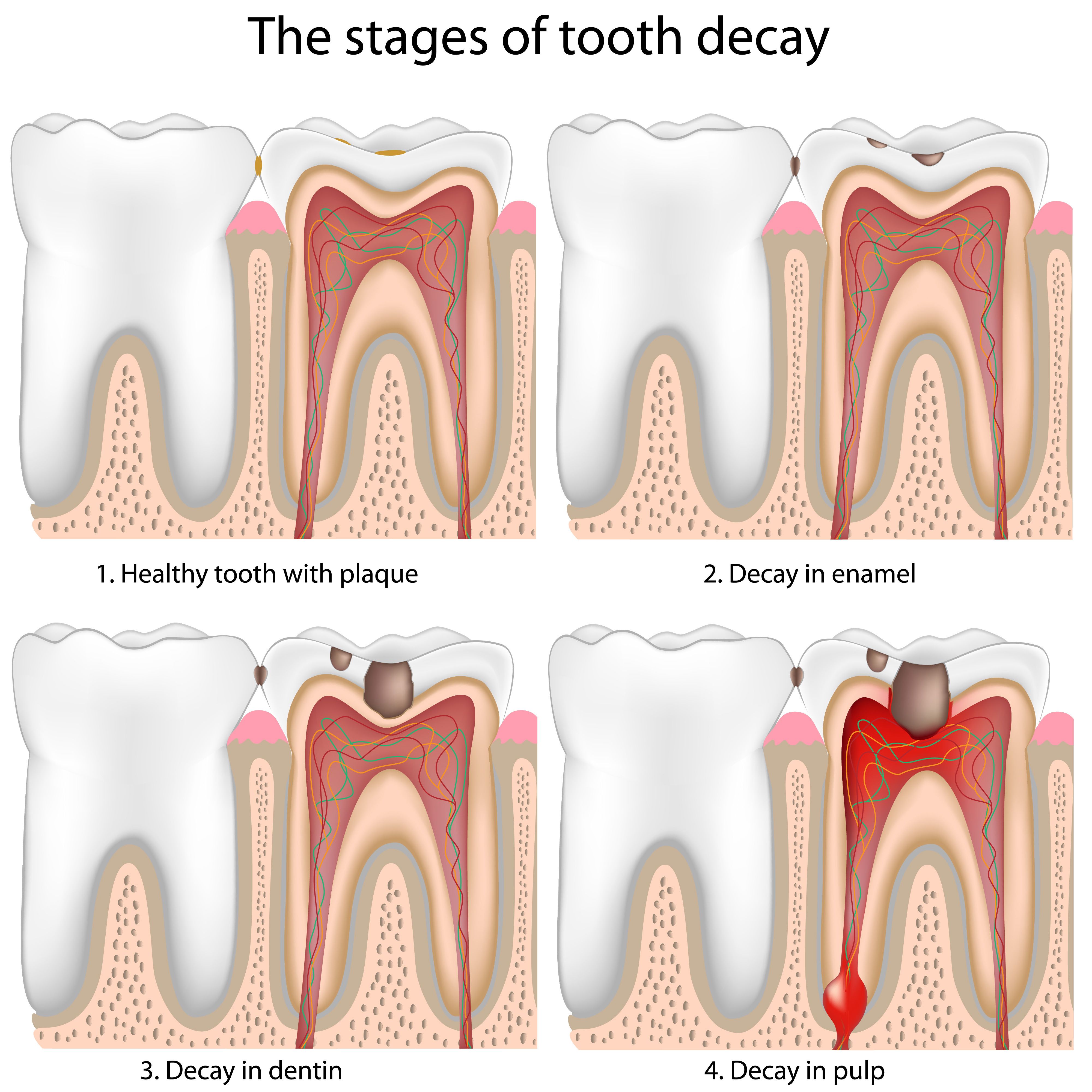 Of all the dental complications that can impact oral health, tooth decay is, by far, the most common. Tooth decay damages healthy tooth enamel and leaves the strength, structure, and function of the tooth compromised. What some people may not realize is that tooth decay is a progressive condition that develops in stages. Restorative dentistry treatment repairs dental damage and eliminates tooth decay to restore the health and strength of the tooth.
The experienced team of dentists at Premier Dental Center will customize each patient's treatment plan based on the stage of tooth decay. Here, we go over the various stages of tooth decay that can affect our Jackson, TN patients and discuss the most appropriate treatment options for each situation.
Stage One: Plaque
Tooth decay begins with the formation of a thick, sticky layer of plaque or tartar. While the tooth can remain healthy when these substances are present, they will eventually begin to destroy tooth enamel, so it is important to eliminate this buildup before tooth decay actually begins.
Fortunately, plaque and tartar can easily be treated with a routine dental cleaning. During a professional dental cleaning, we can scrape away plaque and tartar. When patients schedule biannual dental cleanings and exams, further stages of tooth decay can often be prevented.
Stage Two: Decay of Tooth Enamel
Once tooth decay actually develops, it will damage the outermost layer of the tooth, or the enamel, first. This leaves small holes in the outer surface of the tooth, more commonly known as cavities. Cavities are fairly common. Still, cavities should be treated as soon as possible so that tooth decay does not progress and compromise the tooth even further.
The most common treatment for this stage of tooth decay is a dental filling. A dental filling fills in the hole left by a cavity to restore the structure of the tooth and restore a protective barrier over the inner layers of the tooth.
Stage Three: Decay of Dentin
If a cavity is not treated, decay can progress and reach the next layer of tooth structure, the dentin. When tooth decay reaches the dentin, patients may begin to experience heightened tooth sensitivity or minor tooth pain. Decay of the dentin is considered an advanced stage of tooth decay that requires immediate treatment. If decay has reached the dentin, a dental filling may not provide adequate treatment. Patients with this stage of decay may benefit from an inlay, onlay, or a dental crown. Our dentists will recommend the best treatment for each patient's unique situation.
Stage Four: Decay of the Pulp
The most severe form of tooth decay is decay that has reached the pulp of the tooth. The pulp is the collection of nerves and tissues at the center of the tooth, by the tooth's roots. Decay at the pulp of the tooth is most likely to result in a root canal infection.
Root canal infections are often painful and seriously threaten the strength and function of the tooth. Without treatment, a root canal infection can even lead to tooth loss. To adequately treat decay of tooth pulp, our dentists will perform root canal therapy. During this treatment, we remove damaged nerves and tissues and replace them with a rubber-like dental compound. Afterwards, we will fit the tooth with a dental crown to further enhance its strength and provide an extra layer of protection against further decay.
Contact Us
Professional dental care is your best defense against tooth decay. If you would like to learn more about the general, restorative, and cosmetic dentistry services available at Premier Dental Center, contact us at your earliest convenience.
Related to This
Outstanding staff, sincerely courteous with wonderful personalities. They make you feel relaxed and welcome. THANK YOU

Flora C.