Invisalign® for Adults

Bells, Jackson, & Milan TN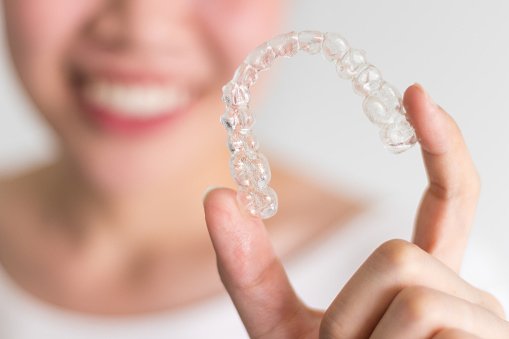 Straightening your teeth and improving their look doesn't have to require metal in your mouth or years of commitment. Invisalign provides our patients with a discreet option that often works faster. At Premier Dental, we can close gaps and straighten your most visible teeth using Invisalign clear aligners improving your smile and helping you achieve that professional look. Following a consultation, we can create a digital progression showing you the end results before you begin. Invisalign just may be the right option for you.

Orthodontic appliances include a wide variety of options to improve the health and aesthetic of your smile. Invisalign can be an ideal option for many patients. Our patients love the benefits that come with wearing clear aligners, including:


| | |
| --- | --- |
| • | Wears like a Retainer: Unlike traditional braces, Invisalign wears like a retainer. The device is a mold of your teeth that is designed to fit snugly over your teeth. This means there are no brackets or wire protruding from your teeth. |
| • | Clear Acrylic: Invisalign is created using a clear acrylic material, giving it a nearly invisible look. Most people will never know you're wearing it, making it discreet. |
| • | Metal Free: Invisalign is metal free. This can be significant for some patients. Metal free means nothing to poke, stab, cut or catch on your soft gum tissue. |
| • | Removable: Treatment requires Invisalign wearers to continuously wear their device for about 22 hours a day, but it is removable when needed. If you play sports, an instrument, or just have a special evening, you can temporarily remove your device. |
| • | Brush Your Teeth as Normal: Brushing and flossing around the brackets and wire of traditional braces can be frustrating. Invisalign removes all of that frustration. You simply remove the device and then brush and floss as normal. You then rinse your device and place it back on. It's that simple, no hassles, no frustration. |
| • | Eat Your Normal Diet: Traditional braces forces their wearers to consider what they are eating and if it will be problematic for their braces. When you eat, we ask that you remove your Invisalign appliance and then eat your regular diet, no changes necessary. Following your meal, you simply put your Invisalign appliance back. |
| • | Shorter Treatment Time: Every patient is different, and your treatment time is going to be specific to your needs. That being said, studies show that treatment time is less using the Invisalign system. |

During your consultation, we will review your bite issues and discuss options with you. Invisalign can be helpful with gaps, overcrowding, straightening and more. Using digital images, we can then apply the images to the Invisalign software and walk you through the system working toward the end result. Invisalign works using a series of aligners. The first aligner is very similar to your starting teeth placement, each following aligner makes small incremental movements.

Best of all, we can accomplish this with less office visits! Though we will still want to check progress, there are no regular tightening appointments.


Schedule an Appointment

Please do not hesitate to schedule an appointment at our dental clinic. To learn more, give us Premier Dental a call at 731-300-3000.