Crowns (Normal)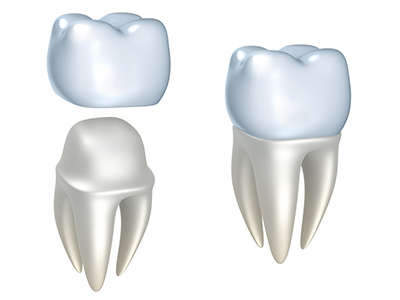 Restoring your tooth shape, strength, size, and appearance is highly possible with crowns. A dental crown is a tooth-like cap placed over damaged teeth to restore shape and functionality. Our team of dental experts at Premier Dental are proficient in fitting the right tooth caps for you. Crowning is usually done to patients who have decayed, crooked, or broken teeth. Crowns are made with different materials that tend to differ in terms of quality and durability. Mostly used to fix back teeth, crowns help by covering and holding together affected teeth, allowing for a return to their normal use.


Importance of Dental Crowns

Dental crowns are needed for many reasons. They help in protecting your weak tooth by holding it together and further strengthening its hold. It also safeguards your decayed tooth from breaking. Crowns restore the health of your decayed or worn down tooth. When correctly placed on your tooth, they can help in making your tooth stronger than before.

It covers and holds the concerned tooth with the help of filling. After the filling, crown works as a cap to secure its hold. Discoloration and irregular shape of the tooth can also be treated by means of crowning. Crowns (Normal) can also be used to secure a dental implant. They can hold a dental bridge, restricting it from falling off. Crowning is also done to protect a child's teeth from decay arising from a lack of oral hygiene. Crowns do a good job of preserving the natural tooth even after severe damage. This is important to retain a natural feel to the mouth.


Types of Crowns

Permanent crowns can be made from different materials. Each material varies in its cost, quality, and sustainability. Stainless steel is often used for prefabricated crowns. These are a temporary solution over the tooth, especially with children who are yet to have their permanent teeth come in. It helps in covering the entire tooth and protecting it from decay.

Metal crowns are available in gold, platinum, and other base metal alloys like cobalt, chromium, and nickel-chromium. Great for withstanding biting and chewing forces, metal crowns are long-lasting and more expensive than most other crown materials. Matching your tooth color, porcelain fused metal looks similar to a natural tooth. This type of crown material is generally preferred for front or back teeth. The metal helps to further strengthen it.

All Resin crowns are less expensive than the other dental crowns. The resins are composed of different material that is vulnerable to fracture and breakage. It is a less popular option for crowning. Ceramic crowns gives a natural color to your tooth than any other material. People who are allergic to metal can take a ceramic crown into consideration. Ceramic crowns are generally used for front and back teeth.

Let us help you treat your decayed tooth by offering you the best-in-class crowning services. If you are looking for quality dental services, reach out to us, Premier Dental at one of our three convenient locations and get your crowning done today with the most trusted dental experts.